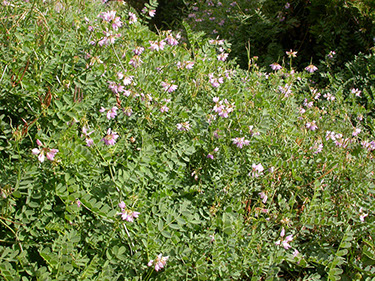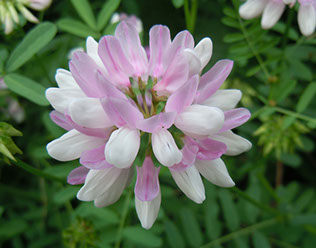 Problem invasive? Crown Vetch, Coronilla varia, is a nitrogen-fixing Eurasian native of the pea family widely used for erosion control since the 1950s. It was once extensively planted along highway cuts and embankments, but it's use has declined since it attracts deer, who like to eat it, and it is sensitive to the herbicides overused by some agencies (e.g., PA Turnpike Commission). Also planted as green manure crop to improve soil. Crowds out native vegetation. Blooms from June throughout summer.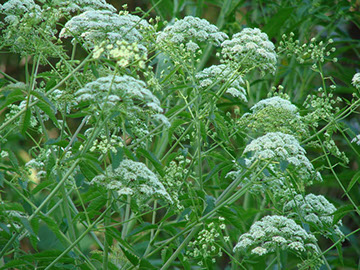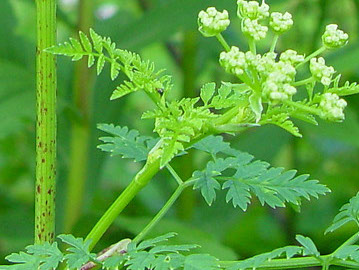 Poison Hemlock or Deadly Hemlock, Conium maculatum, is a highly toxic biennial native to Europe and Asia minor. It was originally imported as a garden ornamental, and is now wild across most of the US and Canada. It is not toxic to the touch, but all parts of the plant contain a powerful neurotoxin that can sicken and kill even in small amounts. It is mostly a threat to livestock and deer, but they tend to avoid it because it does not taste good. The chief threat to humans is that this plant may be mistaken for wild parsnip. Grows six feet or more high, and blooms late May to ??. It is easily identified by purple blotches on its stems. Prefers moist soil and commonly grows along woodland verges and in ditches and depressions that hold moisture. Not related to the native hemlock tree, this is the plant used to kill Socrates, and many other ancient Greeks.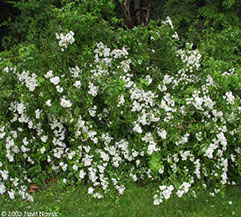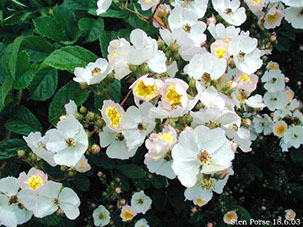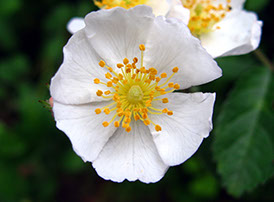 Problem invasive: Multiflora Rose, Rosa multiflora. An invasive species from Asia, and legally a noxious weed in Pennsylvania and New Jersey. This thorn-studded pest disrupts native ecosystems, and its removal is often the target of trail crews.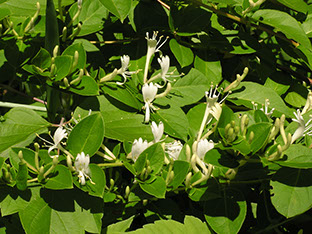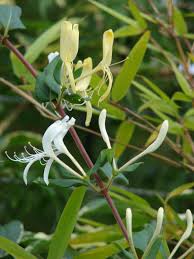 Problem invasive species: Japanese Honeysuckle, or just Honeysuckle, Lonicera japonica. Indigenous to Japan and Korea, it crowds out native vegitation and kills young trees by girdling them. It has a big flush of flowers in June, then continues blooming but with fewer flowers through summer, more so in sunny locations.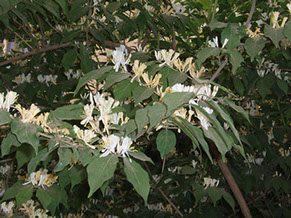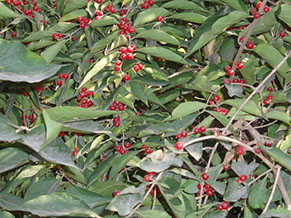 Problem invasive species: Amur Honeysuckle or Phoneysuckle, Lonicera maackii. Indigenous to east Asia. Flowers look like honeysuckle, but have no scent. Plant is a woody shrub, rather than vines. A pest here; an endangered species in Japan.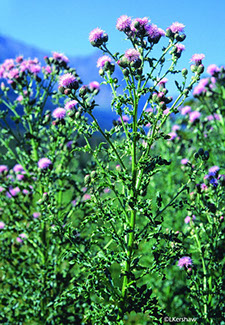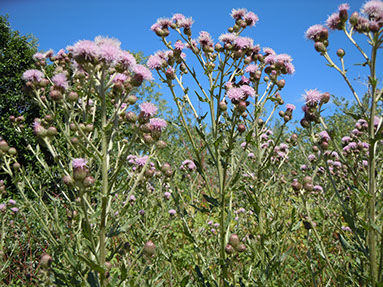 Problem invasive species: Canada Thistle, Cirsium arvense, Is from Europe, not Canada. Its prickly leaves make pasture and silage grasses inedible to livestock, and a field of these is nearly impassible to hikers. Likes sun, and crowds out native vegetation. Dime to nickle sized flowers, many on a stalk, distinguish it from the larger-flowered bull thistle.