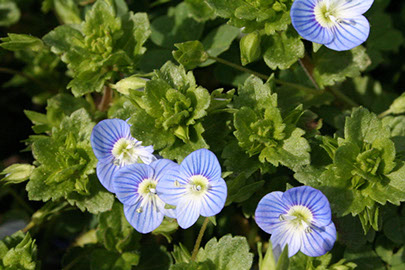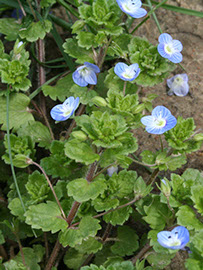 Speedwell, Persian Speedwell, Birdseye Speedwell, Veronica persica, is a seed propagated annual native to Eurasia found throughout North America. Blooms April to August with very tiny flowers less than a quarter inch across.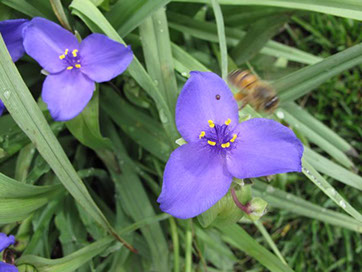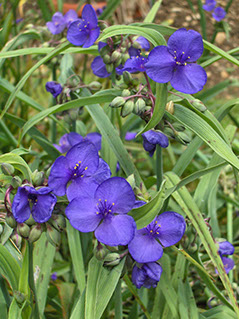 Spiderwort, Tradescantia virginiana, is a perennial native to the eastern United States, sometimes cultivated in gardens. Its leaves and stalks can grow up to three feet high and the three petal flowers are an inch to two inches across. Blooms mid-May into June.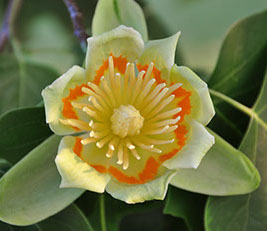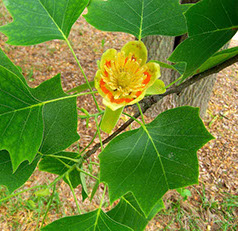 Tulip Poplar, Liriodendron tulipifera. This tall native hardwood tree not only produces straight-grained lumber, it blooms with large, beautiful flowers up to five inches across that many people do not notice until the flowers fall to the ground. Blooms late May into June.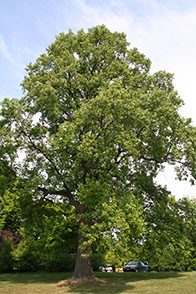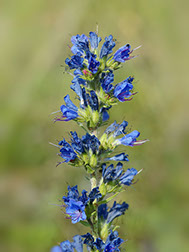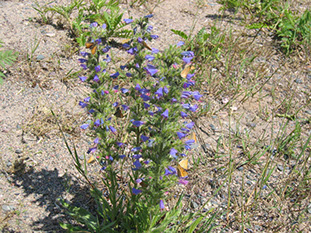 Viper's Bugloss or Blueweed, Echium vulgare, a biannual European native naturalized throughout most of North America. Sometimes grown as an oilseed plant. Grows in open areas and thrives in poor soil.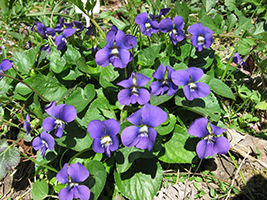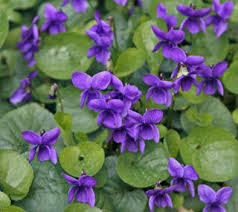 Violets, Viola sororia, synonym Viola papilionacea, is a native of eastern North America that can grow as an annual or as a perennial. Glossy, heart-shaped leaves may grow as tall as six to eight inches, topped with purple flowers with conspicuous white to yellow throats. Erect flower stem droop and produce whitish fruit with great quantities of seeds. Prefers damp woods and moist meadows. Bloom size a hal inch to an inch, they Bloom from April throughout summer. State flower of New Jersey.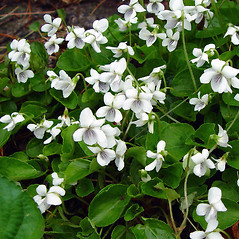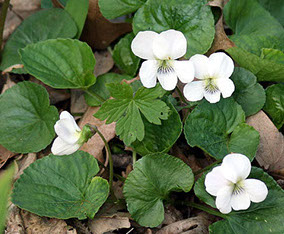 Sweet White Violet, Viola blanda, similar to Viola sororia, but with fragrant white flowers.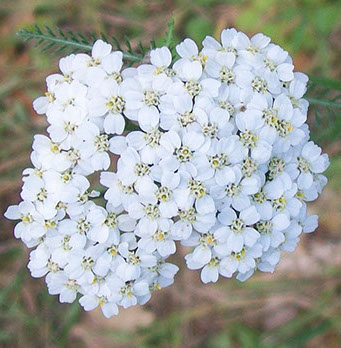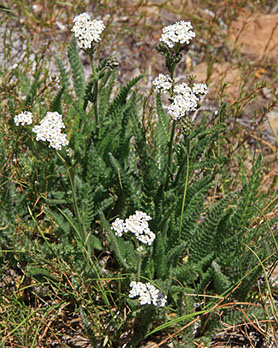 Yarrow, Achillea millefolium, is a perennial native to all parts of the northern hemisphere. In North America, it is a complex of both native and introduced plants and their hybrids. Botanically, it is either treated as ons species with several varities or as several species or sub-species. It grows to three foot tall with a single stem that does not branch except near the top, Blooms June through September.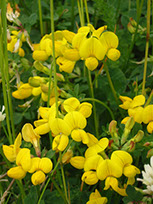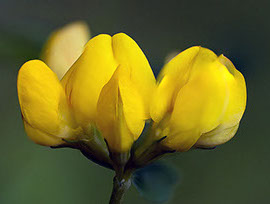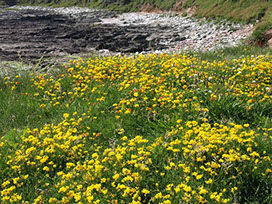 Birdsfoot Trefoil, Lotus corniculatus, Eurasian native widely grown as a forage crop. A pea family member that fixes nitrogen, withstands close grazing and is good for livestock. Blooms late May through summer.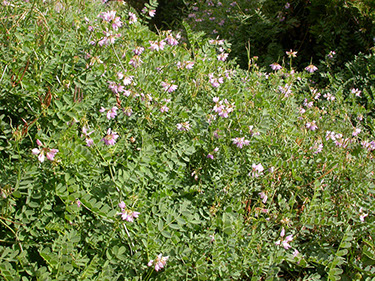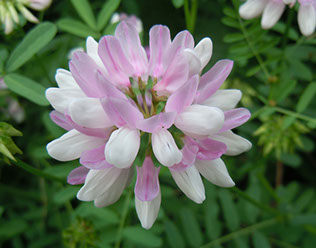 Problem invasive? Crown Vetch, Coronilla varia, is a nitrogen-fixing Eurasian native of the pea family widely used for erosion control since the 1950s. It was once extensively planted along highway cuts and embankments, but it's use has declined since it attracts deer, who like to eat it, and it is sensitive to the herbicides overused by some agencies (e.g., PA Turnpike Commission). Also planted as green manure crop to improve soil. Crowds out native vegetation. Blooms from June throughout summer.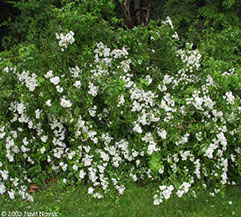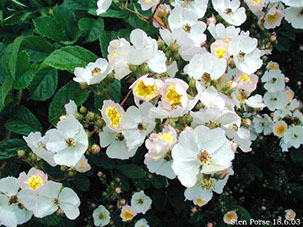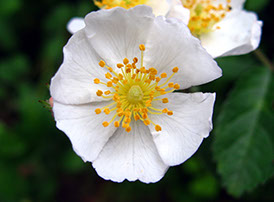 Problem invasive: Multiflora Rose, Rosa multiflora. An invasive species from Asia, and legally a noxious weed in Pennsylvania and New Jersey. This thorn-studded pest disrupts native ecosystems, and its removal is often the target of trail crews.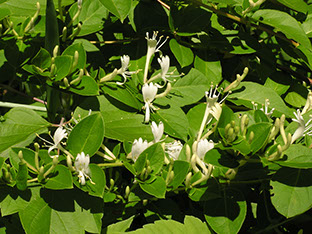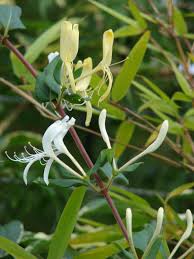 Problem invasive species: Japanese Honeysuckle, or just Honeysuckle, Lonicera japonica. Indigenous to Japan and Korea, it crowds out native vegitation and kills young trees by girdling them. It has a big flush of flowers in June, then continues blooming but with fewer flowers through summer, more so in sunny locations.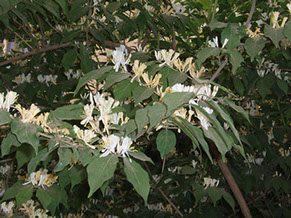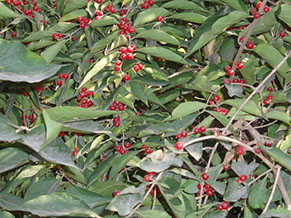 Problem invasive species: Amur Honeysuckle or Phoneysuckle, Lonicera maackii. Indigenous to east Asia. Flowers look like honeysuckle, but have no scent. Plant is a woody shrub, rather than vines. A pest here; an endangered species in Japan.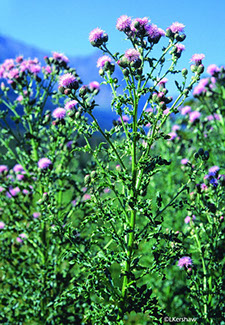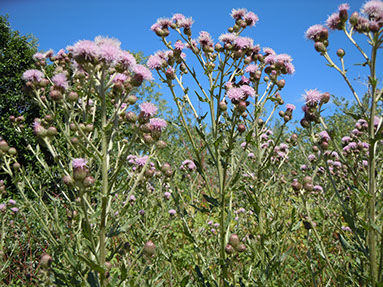 Problem invasive species: Canada Thistle, Cirsium arvense, Is from Europe, not Canada. Its prickly leaves make pasture and silage grasses inedible to livestock, and a field of these is nearly impassible to hikers. Likes sun, and crowds out native vegetation. Dime to nickle sized flowers, many on a stalk, distinguish it from the larger-flowered bull thistle.