Goldenrod Page
Goldenrod is the name given to 125 species of beautiful flowering plants, most of which are native to North America. Here are some of the most common types found in our region.
Goldenrods are often unfairly blamed for fall allergies. Ragweed is the culprit. It reproduced by wind-borne pollen. Goldenrods are insect-pollenated, and are a very important part of our ecosystem. Their nectar is the last major feeding opportunity for honey bees and dozens of other pollinating species prior to winter hibernation. In our area, Goldenrods will be done blooming by mid to late October.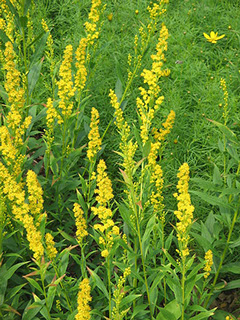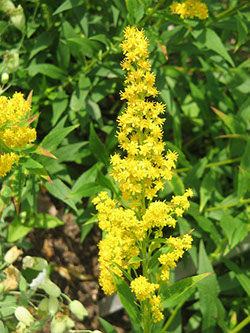 Blue-stemmed Goldenrod, Solidago caesia, a perennial native to eastern North America from Canada to the Gulf Coast. Blooms Late august into October.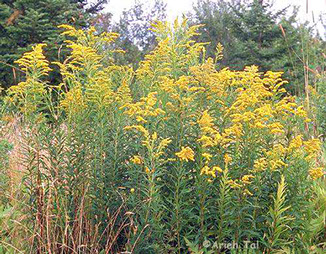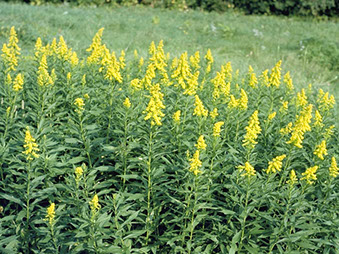 Canada Goldenrod, Solidago canadensis, a perennial native to most of North America from Alaska and Northern Canada south, except for the Gulf Coast. Tall, leafy, finely hairy stem. Blooms August through October.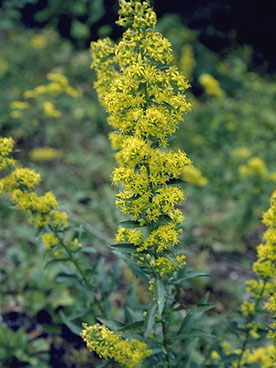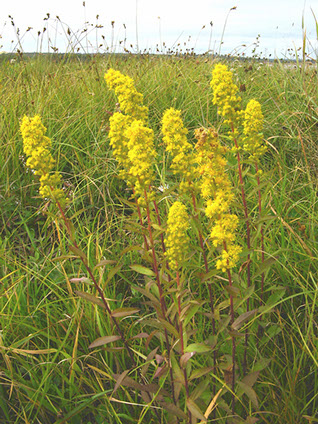 Downy Goldenrod, Solidago puberula, a perennial eastern North American native that lives dry areas, has a very leafy stem covered with fine, spreading hairs. Blooms late August into October or heavy frost.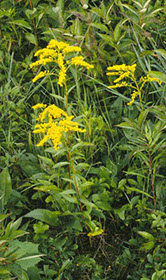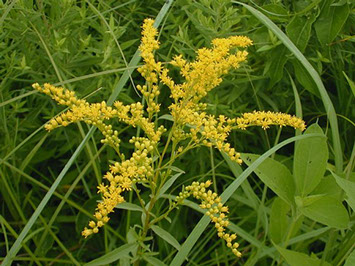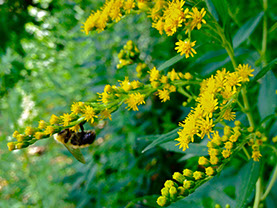 Early Goldenrod, Solidago juncea, a perennial native to eastern North America from the Gulf Coast to Labrador west to the Mississippi. Well named, it is the first of the goldenrods to bloom, starting in late July and early August and blooms into September. A great food for butterflies, it is cultivated to attract them. Grows three to 10 foot tall.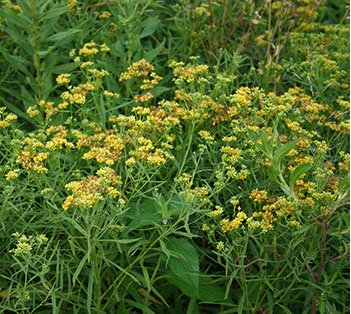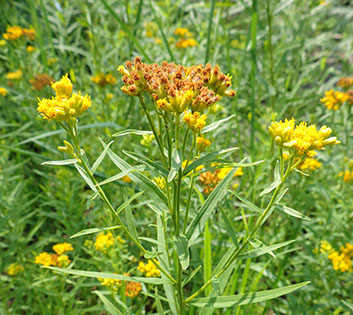 Lance-Leaved Goldenrod, Euthamia graminifolia, a perennial native to most of North America, has long narrow leaves and with red resin dots on the flowers. Blooms August to October in our area.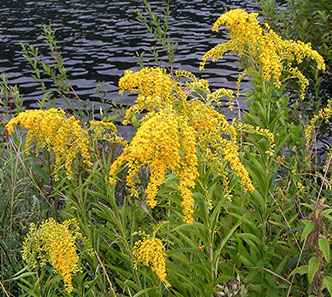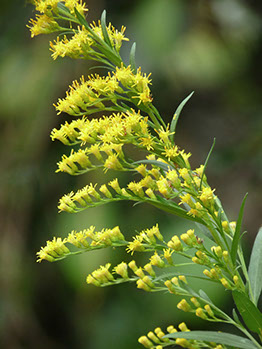 Showy Goldenrod, Solidago speciosa, a perennial native to eastern and central North America. A very common plant in our area blooms late August into October.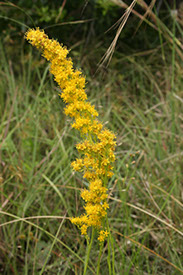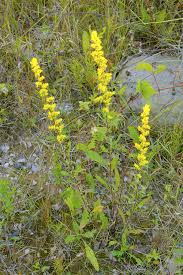 Wand Goldenrod, Solidago stricta, native to sandy coastal areas from New Jersey south along the Atlantic and Gulf Coasts. Blooms August through heavy frost in New Jersey and Delaware.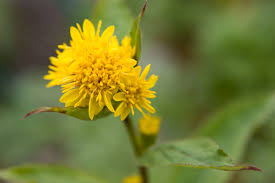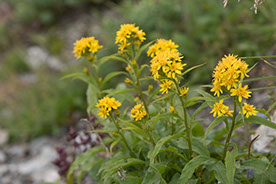 European Goldenrod, Solidago virgaurea var. leiocarpa, a perennial from Europe and North Africa, now found across the temperate norther hemisphere,