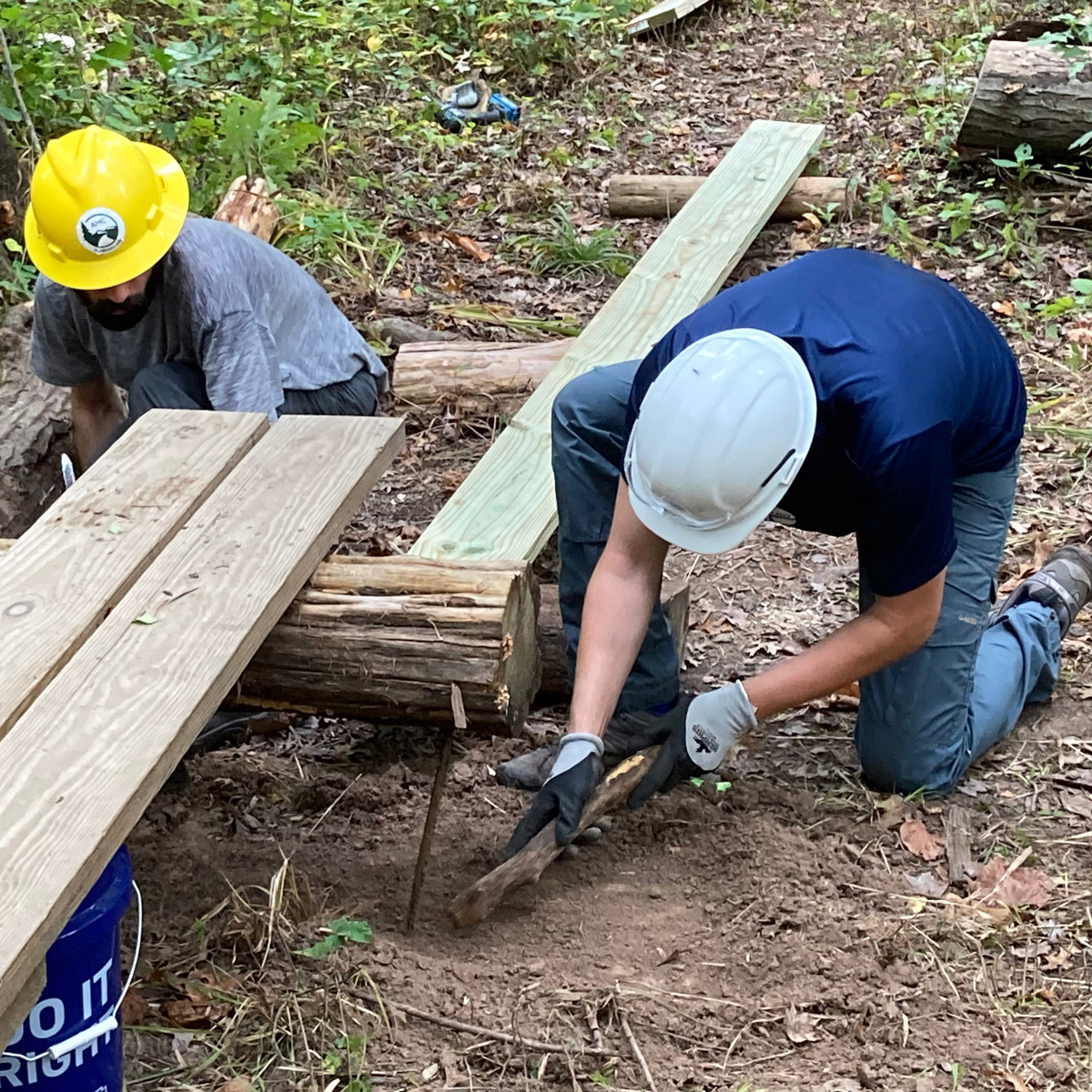 Volunteer at AMC's lodges, huts, campsites, and more!
Our volunteers are passionate about helping people enjoy the outdoors and learn about the natural world. The AMC has a variety of volunteer opportunities based at our Outdoor Program Centers, including Information Volunteers, Volunteer Naturalists, Program Volunteers, and Volunteer Alpine Stewards.
Information Volunteers welcome hikers and overnight guests, orient them to the facility, and offer advice about nearby hiking trails, outdoor gear, and activity programming. Depending on location, Information Volunteers may also lead nature walks and evening programs, assist with retail sales, or help guests with boats and paddling equipment.
Volunteer Naturalists provide outreach through self-designed presentations, activities, and nature walks. Naturalists can offer a variety of programs over a few days, or focus on just one or two topics; they can gear their programs toward kids, adults, or both.
Program Volunteers lead short guided hikes or nature walks and interact with guests using hands-on educational displays. These "Walk-on Programs" are free and open to the public; participants often include novice hikers and families with children.
Volunteer Alpine Stewards provide outreach education to help protect the fragile alpine ecosystem on Franconia Ridge and Mt. Washington. Stewards engage with hikers about Leave No Trace principles, alpine ecology, trail conditions, and backcountry safety. Stewards also collect data for AMC's Mountain Watch and perform light trail maintenance.
For more information about any of these volunteer roles, or to request an application, please contact Kyra Salancy, AMC's Outdoor Program Centers Volunteer Coordinator, at amcvolservices@outdoors.org.
Shelter watchers needed!
Our chapter maintains the LeRoy Smith Shelter on the Appalachian Trail between Little Gap and Wind Gap. Chapter volunteers visit the shelter once a week to check on the condition of the shelter and privy, remove debris, and post their findings to the Shelter Chair. The hike up to the shelter and return takes an average 3-4 hours.
We need to add volunteers to the Shelter Watch team to replace retiring watchers — some of whom have "watched" for over 20 years. If you would be willing to do a shelter watch visit once a year, please contact Pat Sacks at 610-437-3227 or sackspa@ptd.net
Click here for the full job description.
Volunteer recognition awards: Volunteers of the Month, Appie Awards, click here.