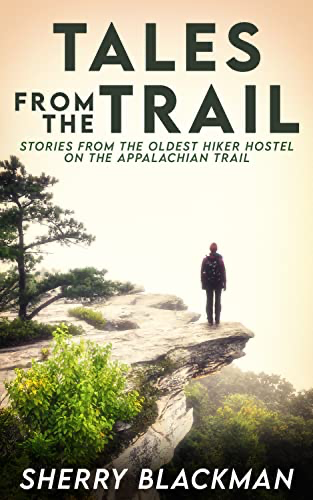 New Book Release
Tales from the Trail: Stories from the Oldest Hiker Hostel on the Appalachian Trail by Sherry Blackman has been released worldwide. This 255-page collection pays tribute to those who dare such a grueling and soul-satisfying adventure on the 2200-mile hike from Georgia to Maine.
The Presbyterian Church of the Mountain in Delaware Water Gap, Pennsylvania, is home to the oldest, continuously-running Hiker Hostel on the Appalachian Trail (AT), offering sanctuary to over 1200 hikers per year. Blackman is a spiritual-investigative reporter in her new book, relying on decades of experience as a prize-winning, globe-trotting journalist, poet and author. She brings a keen observational eye, an inquisitive intellect, and deep-down compassion to those who shared their stories and longings for answers, healing, and transformation in this cathedral of the wild.
Tales from the Trail, part memoir and part spiritual reflection, chronicles the adventures—some humorous, some deeply moving—of those who dare to strip life down to its bare bones to discover or rediscover their humanity.
Tales from the Trail (ISBN: 9781737628736) can be purchased through retailers worldwide, including barnesandnoble.com and Amazon. The paperback retails for $15.99. Wholesale orders are available through Ingram.
During the 2020 pandemic, one thing held true: Scores of people headed out for a day hike on the Appalachian Trail (AT) as if being in the woods, immersed in beauty and mystery, immunized them against an invisible enemy. The AT became a hospital for souls locked up in quarantine, needing to breathe, stretch, and be nourished by the earth beneath their feet.
For decades, the AT has been a sanctuary for seekers, the tired and the lost; those hungry for renewal, the broken and the grieving; and those who want to face and answer questions they have lugged around with them in invisible backpacks. Questions like, what is next for me? Is there a God? Should I live or end it all? How can I liberate my life from what weighs it down? How can I forgive God?
This book pays tribute to all those who dare such a grueling and soul-satisfying adventure. It tells the tales of those on a pilgrimage through insightful conversations and encounters, exploring and revealing what angels the hikers are wrestling with in the wilderness, angels who call out to name them again. This collection unveils the spirituality of any such journey in sometimes humorous, sometimes heart-wrenching portraits.
Tales from the Trail explores what it means to be human.