Mystery, Obsession, and Death on Mount Everest
by Mark Synnott, Dutton Books, 2021
Book review by Kathy Kelly-Borowski
Who has not heard of the 1996 Mount Everest Disaster? Many books have been written about that deadly season: Into Thin Air by Jon Krakauer, The Climb: Tragic Ambitions on Everest by Anatoli Boukreev, Left For Dead: My Journey Home from Everest by Beck Weathers, Climbing High: A Woman's Account of Surviving the Everest Tragedy by Lene Gammelgaard, and After the Wind: 1996 Everest Tragedy, One Survivor's Story by Lou Kasischke. I have read the first three mentioned.
Mount Everest is referred to as the "third pole" because it has the biggest ice mass after the earth's north and south polar regions. Mark Synnott is an experienced professional climber who became part of a team that went to Mount Everest using Northeast Ridge. The group was trying to solve the mystery of the 1924 British Expedition to be the first to summit the mountain. Did George Mallory and Sandy Irvine actually stand on the roof of the world on June 8?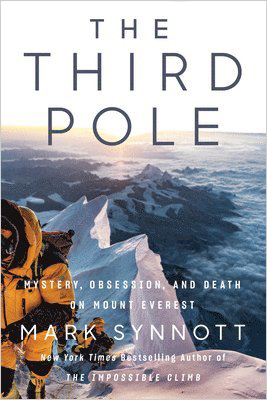 George Mallory's body was found in 1999 and detailed in the book The Lost Explorer: Finding Mallory on Mount Everest by Conrad Anker and David Roberts. Sandy Irvine's body was never found. It was believed that a Kodak camera was carried by one of the climbers to record their attempt. No camera was found on Mallory's body, so it was thought if Irvine's body was found he may have the camera. If the film was still viable, the mystery might be solved.
Before the 2019 team's summit push, Renan Ozturk, a professional mountaineer and filmmake, used a drone that weighed only one and a half pounds and fit in the palm of his hand to photograph the terrain and map the mountain. These photographs were used to locate the area where they believed Irvine's body was located. Renan had to hack the drone's safety functions, allowing it to descend quickly and operate at high elevations.
Synnott weaves the history of Everest, Mallory, Irvine, and other climbers throughout the story while describing "the year Everest broke." Traffic jams on the Northeast Ridge and South Col Route occurred during summit attempts in 2019. There were eleven deaths that season, with four deaths blamed on overcrowding. Avoiding spending extra exhausting hours in the "death zone," Mark and his team waited until those crowds cleared to make their push.
The National Geographic documentary Lost On Everest was released about the expedition and is streaming on Disney Plus