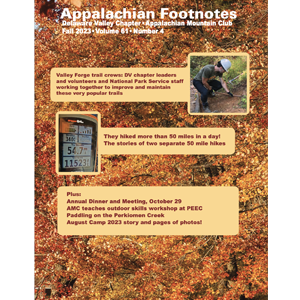 They hiked 50 miles in a day! Two separate 50 mile one-day hikes by DV Chapter members.
Training and expanding Valley Forge trail crews: AMC trail leaders, NPS staff and volunteers working to maintain and improve park trails.
Teaching outdoor skills at PEEC.
Paddling the Perkiomen Creek.
August Camp 2023 story and lots of photos.